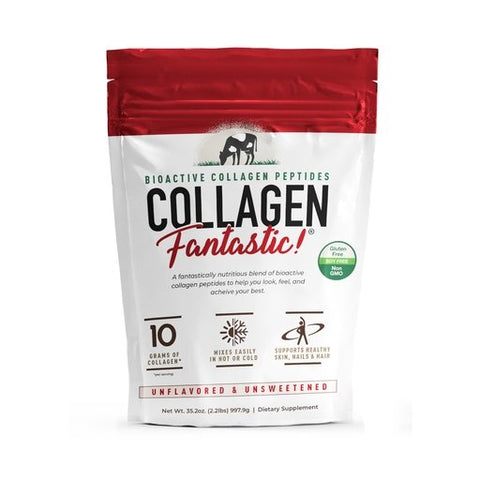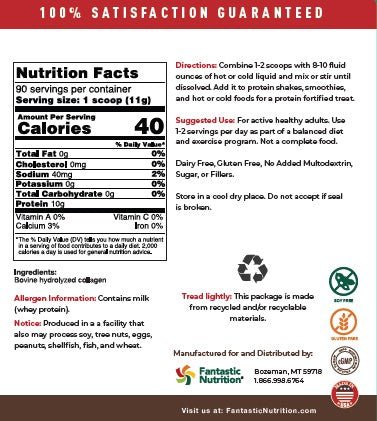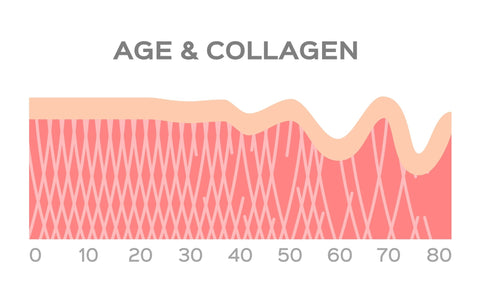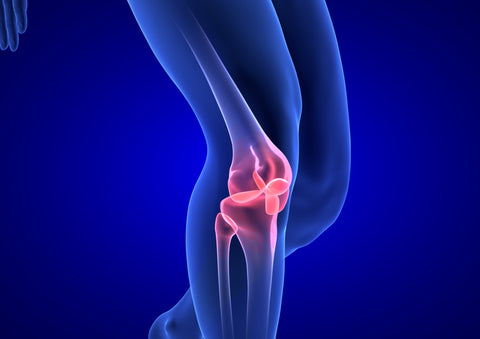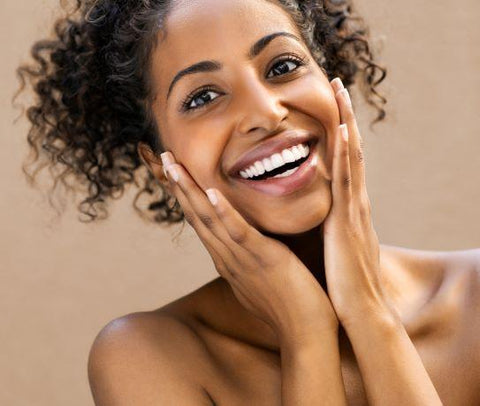 Fantastic Nutrition
New Zealand Grass Fed Bovine Collagen Peptides - Unflavored
$39.95
$49.95
you save $10.00
Collagen Fantastic Grass Fed Collagen Powder for Women & Men - Pure Unflavored Bovine Collagen from New Zealand with Multi Collagen Peptides for Joint, Bone & Skin Support - 2.2lb - 90 Servings
About this item
Developed to Fight the Effects of Aging: After age 30, collagen levels drop; Fortunately, this multi collagen protein powder is specially designed to replenish precious collagen and help reduce the appearance of fine lines, wrinkles, and cellulite.
Formulated to Strengthen Joints, Bones, and Tendons: Sore joints? Brittle bones? The Type I and III peptides in our collagen protein powder are reported to help relieve joint pain, boost mobility, build cartilage, repair tendons, and fortify bones.
Grass-Fed for 100% Purity: Concerned about GMOs? Rest easy; Our collagen for men and women comes from grass-fed-and-finished cattle, pasture-raised in New Zealand without any soy, gluten, fillers, or sweeteners.
Mixes Quickly and Easily: Simply add 1-2 scoops of this unflavored collagen powder to 8-10 oz. of hot or cold liquid; Then mix or stir till it dissolves; Perfect for protein shakes, smoothies, and coffee; You can even use it to bake nutritious snacks.
We Care About Our Common Home: That's why we offer USA-crafted products sourced from free-range New Zealand farms, This collagen is rich in amino acids, hydrolyzed for easy absorption, and safe for both you and your family.
Grass Fed for Superior Quality
Collagen Fantastic is not just any ordinary collagen. It comes from pasture-raised dairy cows that graze on the nutrient-rich grasses which flourish in New Zealand. So, it provides all the crucial peptides you need to support skin, bone, joint, nail, and hair health
Plus, It's Rich in Amino Acids
Why is this important? Because amino acids form proteins, and proteins are the building blocks of life. That's why Collagen Fantastic is such a boon for active people who value fitness and wellness. Take it 5 times a week – 1 to 2 times a day – to promote digestive function and support your immune system.
Blends Well with Hot and Cold Beverages
Mix 1 to 2 scoops of Collagen Fantastic with 8 to 10 ounces of any beverage, hot or cold. It dissolves right away, even in ice-cold liquids, so it's ideal for shakes, smoothies, coffees, teas, juices, soups, and sauces. Plus, it's virtually flavorless, so it won't leave an aftertaste. Each serving gives you 10 to 20 grams of bioactive protein.
It's Even Perfect for Cooking and Baking
Fold some Collagen Fantastic powder into your cookie batter. Stir it into your oatmeal. Mix it with mashed potatoes. Plus, add it to pancakes, pastries, and other goodies. It's a great way to boost your protein intake without adding a lot of calories.

 



More Info
Collagen is a Vital Protein for Healthy Aging: After we turn 30 our body's collagen levels naturally start to decline. Bioactive Collagen Peptides have been shown in numerous research studies to help reverse the physical signs of aging and help our bodies produce more collagen. Collagen Fantastic is formulated to be: 
Versatile: Mixes Easily in Water, Coffee, Smoothies, Shakes and Hot or Cold Beverages. Instantized to dissolve quickly for faster mixing – even in cold beverages. Suitable for baking to fortify collagen and protein levels in treats like oatmeal, pancakes, cookies and other goodies.
Keto and Paleo Friendly protein source rich in Amino Acids and Peptides with no added sugars, sweeteners, or fillers.  Non-GMO. Gluten and Soy Free.**
** These statements have not been evaluated by the Food and Drug Administration. This product is not intended to diagnose, treat, cure, or prevent any disease.Your results may vary.
Ingredients
Ingredients: Bovine hydrolyzed collagen peptides 
Allergen Information: This product is manufactured in a facility that may process dairy, eggs, soy, peanuts, tree nuts, shell fish and wheat. 
Directions
Directions: Combine 1-2 scoops with 8-10 ounces of hot or cold liquid and mix or stir until dissolved. 2 Scoops provides 10g of collagen peptides. Add to protein shakes, smoothies and hot or cold foods for a protein fortified treat.
Q&A
FAQs – Collagen Fantastic!
What is Collagen?
Collagen is the most abundant protein in the human body and is a component of skin and connective tissues like tendons and ligaments.
What Are the Benefits of Taking Collagen?
After we turn 30 years old natural collagen production in the body starts to decline. There are numerous health & beauty benefits attributed to taking collagen peptides which have been supported by numerous research studies.
Here is a short list of benefits:
Improved Joint HealthStrengthen Connective TissuePromote Healthier Looking Skin, Nails and HairReduces Wrinkles and Fine LinesReduce CelluliteSupport Gut Health
How Much Collagen Should I Take?
We recommend that most people take 1 to 2 servings per day. The is equivalent to 10 – 20g of collagen protein per day.
How Many Days A Week Should I Take Collagen Fantastic!
For consistent results we recommend taking 1 - 2 servings of Collagen Fantastic at least 5 days per week.
What Are the Directions for Use of Collagen Fantastic?
Collagen Fantastic is easy to use, imparts little taste and mixes easily in warm and cold beverages. Perhaps the easiest way is mix one level scoop in your morning coffee. It can also be mixed into chocolate milk, almond milk, protein shakes (with Whey Fantastic!) and smoothies. You may also bake with it and add it to oatmeal, cookies, pancakes, etc.  When using it for cooking start with half a scoop and see how it affects the baked goods.
Why Do You Source Grass-Fed Collagen from New Zealand?
New Zealand is well known for the quality of their bovine products including beef, dairy and collagen products. New Zealand has an ideal climate for growing grass and maximizing the time animals spend in pasture and is internally recognized for high standards of animal welfare. Collagen from Brazil may also be from grass fed cattle however the cattle industry practices in Brazil are contributing to deforestation of the Amazon and are thought to be contributing to climate change.
Is Collagen Safe? For Expecting or Breast- Feeding Mothers?
Collagen is safe for healthy people. If you are pregnant, breast feeding or have a medical condition we always recommend talking with your health care provider first. If you experience any discomfort or side effects discontinue use and call your doctor.
What is the Difference Between Collagen and Gelatin?
Collagen is made by hydrolyzing or breaking down gelatin. Collagen peptides are the are very highly hydrolyzed short chain proteins from the hydrolyzing process.
What is the Difference Between Hydrolyzed Collagen and Collagen Peptides?
Collagen Peptides are the same as Hydrolyzed Collagen.
Are There Any Fillers, Binders, Sweeteners or Artificial Ingredients in Collagen Fantastic?
No! There are no fillers, binders, sweeteners, or artificial ingredients in Collagen Fantastic. Only one ingredient – New Zealand Grass Fed Bovine Collagen peptides.
Can I give Collagen Fantastic to my dog?
Yes, we recommend 1.5 tsp per 50lbs.
Guarantee
100% Satisfaction Guaranteed or Your Money Back
We are confident that you will find our natural formulas taste better than other all natural protein powders and meal replacement products.

In fact, we guarantee it! If you are unhappy with our products for any reason we will provide a full refund. All you have to do is email us at cs@getFantasticNutrition.com within 100 days of purchase to get your money back.
Return Policy Details:
Send us an email letting us know why you weren't satisfied with our product.Give us a chance to make it right or find you another product that you will love.If we fail to sufficiently resolve the issue for you, we will refund your entire purchase promptly.
Have questions? Email us at cs@fantasticnutrition.com
Splitting Nail
Before taking NZ Collagen I had a nail that split in the middle and could not get it to repair after trying several recommended "solutions". After taking NZ 3 times the split repaired. Also dry blotches on my skin have been disappearing. Thank you NZ.
New Zealand Grass Fed Bovine Collagen - Unflavored
The Best
I've tried other brands. I prefer Fantastic. Absolutely no taste. I add a scoop to my coffee. Mixes instantly and completely.
Good for hair and Nails
This product is well priced, and great for bones, hair and nails. I haven't noticed any difference in my joints and it certainly is not causing me to lose weight. I take it with calcium for my bones, under medical advisement. I was surprised when it arrived, because all it mentioned was the losing weight advantage. I use two scoops a day. Not that I'm trying to lose weight, but the fact is, it hasn't caused me to lose any weight. Thought you might like to know.
Good taste. Helps to curb my appetite too!
Very good when blended with milk. It gets very frothy and make a sort of cappuccino when added to coffee. Helps to curb my appetite too!