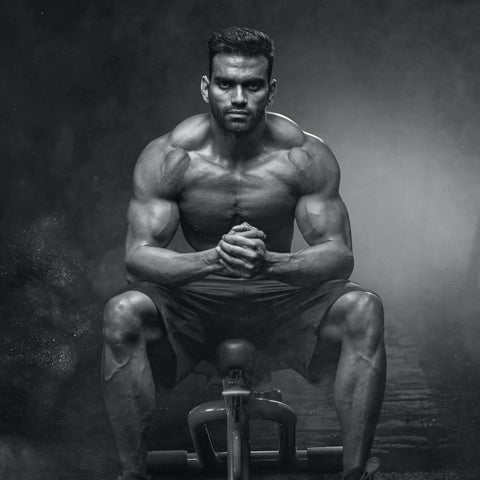 Whey Fantastic Chocolate Grass Fed Whey Protein Powder - 2.34lb - 28 Servings
$39.95
$49.95
you save $10.00
Rich Chocolatety Whey Fantastic Provides 25g of Protein per Serving with the Optimum Blend of Undenatured Whey Isolate, Concentrate and Hydrolysate to Help Maximize Your Results!

Our unique blend of grass-fed whey protein isolate, concentrate and hydrolysate powders makes this the best protein for men and women who workout in order to build lean muscle as well as those who want to manage their weight and lead a healthy fit lifestyle. Why settle for products with only whey concentrate? Maximize your results with Whey Fantastic! 

A Unique Blend of Whey Isolate, Concentrate & Hydrolysate powder

No added sugars

No Artificial Flavors, Sweeteners or Colors

Cold Processed and Undenatured

Non-GMO, Soy and Gluten Free

No rBGH or rBST

Mixes Easily
More Info
Transform Your Body
Scientific research indicates that adding a clean whey protein like Whey Fantastic, with its naturally occurring immunoglobulins, lactoferrin, and protein co-factors, to your daily regimen may help raise your metabolic rate, improve glucose tolerance and allow you to achieve your goals for a healthy fit body faster.

Completely Natural, Grass Fed and Hormone Free  
Our 100% grass-fed whey protein comes from pasture raised dairy cows that eat a nutrient rich, diverse diet of grasses. Our cows are responsibly raised and are free of rBGH or rBST. Whey Fantastic contains no added sugars and is Gluten Free, Soy Free, Non-GMO and contains no artificial flavors, fillers or preservatives, plus it's Keto and Paleo friendly.
Whey Fantastic is perfect for protein shakes, smoothies and other healthy snacks. Try our delicious recipes or create your own.* 
*These statements have not been evaluated by the food and drug administration. This product is not intended to diagnose, treat, cure or prevent any disease.  Your results may vary.
Ingredients
Ingredients: Grass Fed whey protein blend (whey protein isolate, whey protein concentrate, whey protein hydrolysate), Dutch cocoa, inulin fiber,  natural flavors, erythritol, xanthan gum, salt, monk fruit extract, stevia leaf extract.
Allergen Information: Contains Dairy
Produced in a facility that may also process eggs, tree nuts, peanuts, shellfish, fish, and wheat.
Directions
Suggested Use: For healthy adults, use as part of a balanced diet and exercise program.
Directions: Add 2 level scoops to 6-8oz of cold water, non-fat milk or other beverage in a shaker and mix well - about 15 seconds. For a delicious smoothie use a blender and you favorite fruits, greens, nut butter, ice, etc.
Check out our Recipes for ideas!
Q&A
What is whey protein?
Whey protein is a high-quality protein naturally found in milk. It is a complete protein containing all of the essential amino acids
("building blocks") your body needs and is easy to digest.
Whey protein is also one of the best sources of branched-chain amino acids (BCAA) including leucine, which has been shown to stimulate muscle synthesis as well as having other health benefits. Whey protein has one of the highest biological values measured, with its score of 100 serving as evidence of that fact.
 
How is whey protein made?
Whey is one of two major proteins found in cow's milk. Whey protein is produced during the process of making cheese, which begins when
special enzymes are added to milk causing it to separate. The curds are used to make cheese, leaving behind whey protein in the liquid portion.
This liquid whey is then micro-filtered and dried into a powder for various uses. One of those uses is to serve as a healthy meal
replacement shake for folks looking to make healthy nutritional choices on a daily basis.
 
What are the health benefits of whey protein?
Maintain a Healthy Weight: A reduced calorie, higher-protein diet which includes whey protein may improve the quality of weight loss by helping you lose more fat and/or maintain more lean muscle.
Curb Hunger: Calorie for calorie, whey protein can help people feel fuller longer than carbohydrates or fats. We believe a balanced formula, like Whey Fantastic, with the right proportions of protein, carbohydrates and fats, combined with a satisfying taste and mouth-feel, all work together to further increase satiety. Whether you are looking for weight loss shakes for men or women, anyone can benefit from dedicating themselves to a healthier, more regimented lifestyle.
Get Lean: Consuming whey protein and performing resistance exercise regularly can help build more lean muscle than resistance training alone or resistance training combined with carbohydrate consumption.
Enhance Exercise Recovery: Consuming whey protein after exercise helps to build and repair muscle. We have formulated remarkably good tasting protein powder so that you can reap the benefits without putting your taste buds through torture.
Improve Immune Function: Unlike many animal and vegetable proteins, whey protein has been proven to help fight inflammation in the body. Since immune inflammations and imbalances are often caused by toxins in our foods, medication and our modern-day environment the benefits of whey protein are becoming increasingly important in maintaining long-term health.
Reduce Muscle Loss with Aging: Emerging research shows
older Americans may be able to reduce the age-related decline of muscle mass by engaging in resistance training and consuming higher than the Recommended Dietary Allowance (RDA) for protein.
How much protein does a person need?
The amount of protein one needs varies with age, gender, body type, activity level, type of activity, and overall health. Most people need at least 0.4 grams of protein for every pound of body weight to meet
minimum protein requirements. Athletes and older adults may benefit from a higher protein intake up to 1.0 grams per pound of body weight for strength athletes. Research indicates that the health benefits of adding whey protein to your diet may extend beyond just the need to meet the minimum protein intake. That's why many folks are considering adding a protein drink meal replacement to their weekly nutritional routine.
 
What is hormone free (rBST) whey protein?
In the U.S., dairy cows are routinely injected with synthetic growth hormone (recombinant bovine somatotropin or rBST: also known as rBGH) to increase milk production. Recombinant bovine somatotropin was first developed by Monsanto (PosilacTM) in 1994. The effect of using rBST in dairy production has been a source of debate in this country for several years. Opponents to the use of artificial growth hormone in milk production claim that it causes a compositional difference in the milk, raises IGF-1 levels in the milk and may adversely affect the health of the animal.
The use of artificial growth hormone has been banned in a number of countries including Canada, New Zealand, Australia, and the European Union. We source our proteins from countries where the use of rBST is not allowed, in order to ensure our proteins are free of the effects of synthetic growth hormones and that we are not contributing to its continued use. We want you to have complete trust in our natural weight loss shakes.
 
Why are milk products from grass-fed cows better?
This is another topic of debate within the dairy industry. As it
turns out, the definition of what constitutes a grass-fed cow is pretty hard to nail down, as cows are rarely fed on grass alone. We take it to mean cows that primarily graze on pastures rather than feeding in feedlots. Feedlots are not a particularly healthy environment, and
therefore these cows are given more antibiotics and are thought to produce higher levels of their own stress hormones than dairy cows that spend the majority of their lives in pasture. Healthier, happier cows produce better milk and yield better whey is thinking here.
Research now indicates that cows that graze on fresh pasture grasses produce milk with up to five times more of a healthy, unsaturated fat called conjugated linoleic acid (CLA) when compared with animals that graze in feedlots. In a variety of studies, CLA has been shown to protect the heart and contribute to weight loss. More research needs to be done to determine if these health benefits might affect those that
consume dairy products with higher levels of CLA.
 
Should people who are lactose intolerant drink Whey Fantastic?
If you are lactose intolerant, or sensitive to lactose - the natural
sugar found in milk products - you may not be able to tolerate Whey Fantastic. When mixed with water or a non-dairy beverage, each serving
of Whey Fantastic contains approximately 600 mg to 750 mg of lactose. For reference, a glass of regular milk contains about 12 g of lactose and cheddar cheese (30g) contains about 0.02g of lactose. Some people are also allergic to the proteins in milk and should avoid all dairy.
 
Is Whey Fantastic gluten-free?
Gluten is a protein composite found in foods processed from wheat and related grain species including barley, and rye. Whey Fantastic, our natural weight loss shake, does not contain any wheat protein or gluten. It is gluten-free.
 
What is the difference between whey protein concentrate, whey protein isolate, and whey protein hydrolysate?
All three start as raw whey, the clear liquid that is a by-product of the cheese making process. It is then filtered to extract the proteins.
Whey protein isolate receives the highest degree of filtration and contains a higher concentration of protein per gram than whey protein concentrate due to the removal of other components including lactose, fat, and some vitamins and minerals. Both offer health benefits and are used in various foods and powders. Hydrolyzed whey protein is created when the filtered protein chains are broken down, or "digested", into smaller chains of amino acids called "peptides." This form of whey is most commonly used in infant formulas, medical protein supplements. Hydrolyzed proteins generally have a much more objectionable flavor than other forms of whey protein. Again, you don't have to worry about that when it comes to our remarkably good tasting protein powder found in Whey Fantastic.
Whey Fantastic contains a blend of whey protein isolate and
concentrate. This provides the benefits of whey with less fat and lactose yet includes the minerals and other benefits of whey protein concentrate.

How are the proteins in Whey Fantastic processed? Are they non-denatured?
The proteins in Whey Fantastic are non-denatured. Proteins become damaged or denatured by exposure to excessive heat in the manufacturing process. The whey proteins in Whey Fantastic are carefully processed to avoid denaturing and are cross flow or ultra filtered to preserve the quality of the proteins.
Are there any side effects from taking too much whey protein?
There is little scientific evidence to suggest that healthy
individuals who are not lactose intolerant or allergic to dairy will
experience any side effects from a diet high in whey protein.
 
Will taking whey protein make me muscular like a bodybuilder?
The short answer is no! Bodybuilders use whey protein because they want efficient calories that are high in protein. Whey protein is the most efficient protein there is. It has the highest biological value, is
digested easily, enters the bloodstream quickly and using it is fast, convenient, and affordable. What makes bodybuilders muscular is the
years of hard work they put into a training regimen specifically
designed to build muscle. Drinking whey protein every day will not make you look like a bodybuilder any more than putting on a pair of Air
Jordans will make you an NBA all-star.
 
Why is there fiber in Whey Fantastic?
We have added inulin fiber to help improve satiety and reduce
cravings for those that are using Whey Fantastic for weight management. Inulin fiber has been shown to improve gut health, curb appetite, boost heart health and lowers metabolic syndrome health risks, increase calcium absorption for better bone health. So whether you are looking for the best meal replacement shakes for women or the top weight loss shake for men, we believe Whey Fantastic is worth your consideration.
Guarantee
100% Satisfaction Guaranteed or Your Money Back
We are confident that you will find our natural formulas taste better than other all natural protein powders and meal replacement products.

In fact, we guarantee it! If you are unhappy with our products for any reason we will provide a full refund. All you have to do is email us at cs@getFantasticNutrition.com within 100 days of purchase to get your money back.
Return Policy Details:
Send us an email letting us know why you weren't satisfied with our product.Give us a chance to make it right or find you another product that you will love.If we fail to sufficiently resolve the issue for you, we will refund your entire purchase promptly.
Have questions? Submit them here
Love the Chocolate
Just received the new chocolate Whey Fantastic and it is phenominal, mixes easily, and is a great post workout shake. I have tried many chocolate whey proteins and this is my new favorite.
I am Hooked
Love the new Chocolate Whey Fantastic
Great Protein Great Value
Thanks for making such a great product at an affordable price. This Chocolate Whey Fantastic mixes easily and tastes great even in just water. I really like that it has all three whey proteins in a blend.
Healthy and Tastes Great in Water
The taste is great. I think ingredients are very good and healthy except maybe a little extra sodium. Quantity could be more for price but I do like it that it is made from grass fed cows and I'm sure that's an extra cost.
High protein-low carb keeps me from being hungry until lunch!
I add this to my daily breakfast smoothie with kale, carrot, avocado and blueberry. It's delicious!